Energy-saving heating panels based on PCM technology
New energy-saving heating concept for buses as well as rail, utility and special-purpose vehicles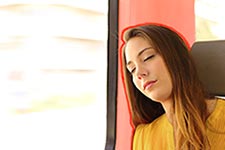 Heating panels with an integrated PCM layer (PCM = phase change material) ideally complement conventional heating systems, especially in electric-powered or hybrid vehicles. They are able to store excess electric power produced during the vehicle's operation in the form of thermal energy.
PCM are capable of storing large amounts of heating or cooling energy for extended periods of time and later release it without loss. The radiated heat directly benefits the passengers, who perceive it as very pleasant and comfortable.
Our PCM heating panels are available in different dimensions to fit any application. They can be customized for use with power systems operating at a voltage between 24 and 700 V AC/DC. The light-weight panels are maintenance-free and not subject to wear. As they are electric-powered, they work independently of the drive engine, hence their operation is locally emission-free.
Operating principle
Thanks to the high thermal conductivity of the aluminum foil between baseplate and PCM, the heating panel starts radiating heat immediately after activation. Thus it efficiently complements the conventional heating system, which is fed by the engine or an auxiliary heater and hence usually takes some time to produce enough hot air.
The surface temperature of the heating panel shall not exceed 45°C, a temperature level that is still comfortable to the touch. Since the heat radiated by the panel is absorbed directly through the skin, the passengers perceive the interior climate as comfortable even at a relatively low air temperature of around 15°C. This allows lower target temperatures and saves considerable amounts of energy.
Advantages
Targeted heat distribution and improved heat retention
Reduced energy consumption and costs
Selectively controllable via sensors that detect the presence of passengers
Immediate heat release (Quick-PCM)
When the doors are open, heat stored and radiated by PCM does not get lost as quickly as hot air
Heating elements can be cleverly integrated in windowsills, interior liners, seats, arm rests, seat backs etc.
Radiated heat is perceived as more constant and thus more comfortable than heat provided by hot air blowers
IOT (Internet of Things): individually controllable systems can be interconnected
Suitable for power systems with voltages between 24 V and > 700 V